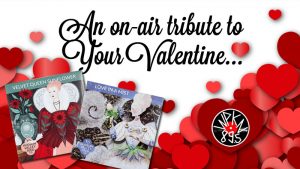 Jazz Love Songs: An all-day music and fundraising special only at WPKN 89.5 FM and streaming at WPKN.org. No genre does it better, and nothing says, "I love you" like jazz. If your theme for February is romance, the volunteers at WPKN want you to know how they feel: We LOVE our listening audience!
Over the course of the day, we'll be reading Valentine's Day Tributes from our listening audience to their loved ones. Donations from this fundraiser will be used for the station operations, allowing our continued success.
In addition to our spectacular hosts, above, we want to take a minute to thank our fundraiser tally-keepers, without whose help we would certainly be lost!