Counterpoint with Scott Harris
This week's guests on Counterpoint, hosted by Scott Harris:
Steven Gardiner, Assistant Research Director with Political Research Associates talks about the recently uncovered militia plot to kidnap Michigan Governor Gretchen Whitmer, and overthrow her state government — he'll also assess the wider threat of armed, white supremacist groups and vigilantes who have been inspired and emboldened by President Trump and his regime.
---
Jake Johnston, a Senior Research Associate at the Center for Economic and Policy Research examines the current political situation in Bolivia, obstacles standing in the way of a free and fair presidential election on October 18th, and longstanding demands for change in US foreign policy toward Latin America and the Caribbean.
---
Tom Collina, director of policy at Ploughshares Fund and co-author, with former Secretary of Defense William Perry, of "The Button: The New Nuclear Arms Race and Presidential Power from Truman to Trump," discusses his recent article, "Trump's COVID infection shows why it's time to retire the nuclear football."
---
Eli Beckerman, Director of Open The Debates, talks about the mission of his group to open up the presidential debates to all qualified candidates, the history and funding of the Commission on Presidential Debates, and proposals to establish a fairer electoral system that will allow viable third party candidates to participate on an even playing field to win office.
Monday, October 12 at 8:00 PM and in the WPKN
archive
.
Writer's Voice: with Francesca Rheannon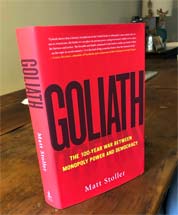 Writer's Voice with Francesca Rheannon will talk with Matt Stoller about his book "GOLIATH: The 100-Year War Between Monopoly Power and Democracy."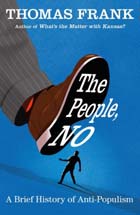 Then we replay an excerpt from our interview last year with Thomas Frank about populism — real and fake. He's got a new book out about it, "The People, No."
Monday, October 12 at 10:00 PM and archived.