FOR IMMEDIATE RELEASE
A Celebration of Black History Month and a benefit for Bridgeport's WPKN Radio
BRIDGEPORT, CT, January 13, 2023—For the first time in nearly a decade, the New York-based international award-winning modern dance ensemble Bill T. Jones/Arnie Zane Company will perform in Fairfield County at The Quick Center for the Arts at Fairfield University on Saturday, February 25.  This performance has been selected as part of February's Black History Month and is a benefit for nonprofit, community radio WPKN (89.5-FM, Bridgeport). All ticket purchases will also support giving Bridgeport students from the FAME after-school program access to this performance.
The Bill T. Jones/Arnie Zane Company was formed in 1982 out of an 11-year collaboration between Bill T. Jones and Arnie Zane (1948–1988). During this time, they redefined the duet form and foreshadowed issues of identity, form and social commentary that would change the face of American dance. The Company has performed worldwide in more than 200 cities in 40 countries on every major continent, and is recognized as one of the most innovative and powerful forces in the dance-theater world.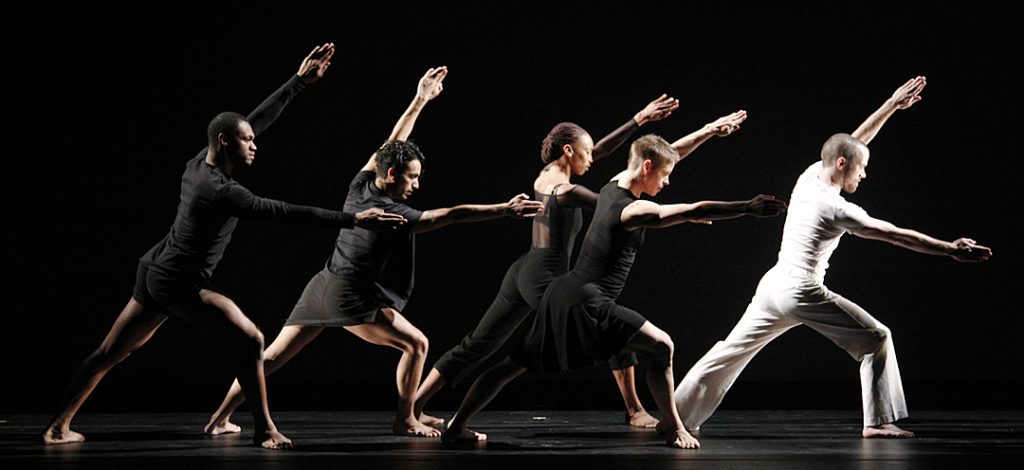 The company is reviving two works from their repertory for this special occasion: "Continuous Replay" reflects Arnie Zane's interests in photography and film. Originally choreographed by Zane in 1977 as a solo titled Hand Dance and later revised as a group work by Bill T. Jones in 1991, "Continuous Replay" is based on 45 precise gestures accumulated in space and time, cunningly complicated by discrete movement events. Music made, mixed and re-mixed by John Oswald.
The second piece "Story/" is the result of the company's continued investigation in using John Cage's "Indeterminacy" as a choreographic tool. follows the model for the acclaimed "Story/Time," the work employs a random menu of movement that is accompanied by Franz Schubert's "String Quartet No. 14 (Death and the Maiden)" to craft a conversation between the music and the movement.
Dance performance tickets are $50. A pre-event VIP Reception & Performance ticket is $100. Other options include $150 for Two VIP Reception & Performance tickets. $500 for Six VIP Reception & Performance Tickets.  There will be a VIP reception in the theater lobby at 6 p.m.  The performance starts at 7:30 p.m. Tickets are available in person at the Quick Center Box Office, by phone at 203-254-4010 or at https://quickcenter.fairfield.edu/upcoming-events/quickcenter.com
About The Artists
The repertory of the Bill T. Jones/Arnie Zane Company is widely varied in its subject matter, visual imagery and stylistic approach to movement, voice and stagecraft and includes musically driven works as well as works using a variety of texts. The company has been acknowledged for its intensely collaborative method of creation that has included artists as diverse as Keith Haring, Cassandra Wilson, The Orion String Quartet, the Chamber Society of Lincoln Center, Fred Hersch, Jenny Holzer, Robert Longo, Julius Hemphill and Daniel Bernard Roumain, among others.  Bill T. Jones/Arnie Zane Company resides at New York Live Arts Live Arts, an internationally recognized destination for innovative movement-based artistry where Bill T. Jones is Artistic Director.
Some of its most celebrated creations are evening-length works including "Last Supper at Uncle Tom's Cabin/The Promised Land" (1990, Next Wave Festival at the Brooklyn Academy of Music); "Still/Here" (1994, Biennale de la Danse in Lyon, France); "We Set Out Early… Visibility Was Poor" (1996, Hancher Auditorium, Iowa City, IA); "You Walk?" (2000, European Capital of Culture 2000, Bologna, Italy); "Blind Date" (2006, Peak Performances at Montclair State University); "Chapel/Chapter" (2006, Harlem Stage Gatehouse); and "Fondly Do We Hope… Fervently Do We Pray" (2009, Ravinia Festival, Highland Park, IL). The ongoing, site-specific, "Another Evening" was last performed in its seventh incarnation as "Another Evening: Venice/Arsenale" (2010, La Biennale di Venezia).
About WPKN 89.5 Community Radio
Founded in 1963, WPKN is a 10,000-watt listener-supported community radio station broadcasting at 89.5 FM and streaming online at WPKN.org. WPKN's terrestrial signal serves a potential listenership of 1.5 million people in Connecticut, Long Island, and parts of New York and Massachusetts. Programs on WPKN include live and recorded music, news, public affairs, and spoken word. The station is powered by the passion and commitment of almost 200 volunteers in our listening community and is supported by the generous donations of our listening audience. Learn more at https://wpkn.org.