FOR IMMEDIATE RELEASE
CONTACT: Jim Motavalli, publicity director, at [email protected]
WPKN's Music Mash '23 is Saturday, April 22 in Bridgeport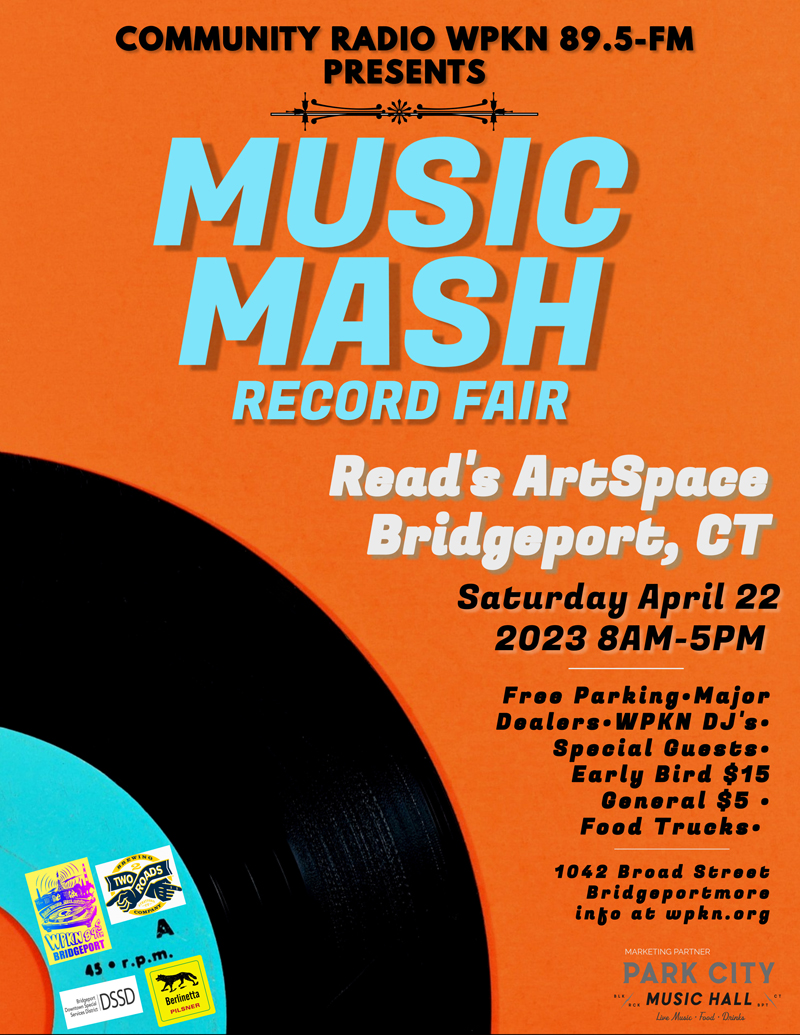 WPKN, Bridgeport's free-form, listener-supported radio station (89.5 FM and wpkn.org), is back with Music Mash '23, its annual record fair taking place at Read's Artspace, 1042 Broad Street, Bridgeport, on Saturday, April 22 from 8 a.m. to 6 p.m.
WPKN's Music Mash presents more than 50 vendors from all over New England selling vinyl LP's, 45's, CD's and music collectibles.  There will be live music, WPKN DJs and celebrities spinning discs, as well as food and drink options. It's decidedly family-friendly!
Music Mash is a decidedly WPKN take on the traditional record fair, presenting sounds from every possible genre and style. It's a crate-digger's paradise, with a bit more sizzle than the traditional record fairs
Read's Artspace is a former multi-level department store features a well-lit massive gallery site on the entire ground floor. It's accessible via exit 27 North or South off I-95. The location is a five-minute walk from Metro North (convenient for New York City, and New Haven), and a three-minute cab ride from the Port Jefferson Ferry terminal in Bridgeport.
Outdoor parking is free, and located across from Read's Artspace with access to the lot from Cannon Street. On-street parking is also free—meters are not enforced in Bridgeport on Saturdays. Parking is not allowed at Read's itself. It is private and subject to towing.
"Early Bird" hours are from 8 a.m. to 9:30 a.m.  These tickets for the more avid collectors are $20 and allow first viewing of what's on sale.  From 9:30 a.m. to 5:30 p.m., admission is $5 for adults, $3 for students. Children under 12 years old are free.
WPKN is working through Record Riots, a group that owns and operates record shows in Philadelphia, Jersey City, New Haven and Brooklyn.  The more than 50 New England dealers specialize in all types and formats (vinyl LPs, 45s, CDs) of music from Jazz, Rock, Blues, World, Motown, New Wave, Reggae, Punk, Ephemera, Soul, Disco, Surf, Country, Rockabilly, R&B and more.  Also, there are vendors selling books, posters, artwork and other collectibles.  Prices will range from $1 to $1,000.  WPKN-FM itself has several thousand donated LPs it will offer.
Park City Music Hall is WPKN's marketing partner. If crate diving makes you hungry and thirsty, Two Roads Brewing and Berlinetta Brewing will be on-site, with special discounts for Music Mash attendees. A full list of participating restaurants is available on-site.
About WPKN 89.5 Community Radio
WPKN, rated "the greatest radio station in the world" by The New Yorker, recently completed its long-awaited move to 277 Fairfield Avenue in Bridgeport—walking distance to Read's Artspace and other arts venues. Founded in 1963 as a 100-watt campus outlet, WPKN is today a 10,000-watt listener-supported community radio station broadcasting at 89.5 FM and streaming online at WPKN.org. WPKN's terrestrial signal now reaches to a listenership of 1.5 million people in Connecticut, Long Island, parts of New York and Massachusetts. Operating 24/7 and largely run by volunteers, WPKN offers a unique and eclectic mix of live and recorded music, news, public affairs, spoken word, arts and culture and other free-form programming which defy genre. WPKN is proud to be listener-supported, commercial-free, community-driven radio available to the public at no cost, any time, day or night.