For Immediate Release
CONTACT: Jim Motavalli at 203-610-0549
WPKN Gala for the Future
On November 16, after 58 Years at the University of Bridgeport, WPKN to Move Downtown 277 Fairfield Avenue (Above the Bijou Theatre)
WPKN (89.5 FM and WPKN.org, dubbed "The Greatest Radio Station in the World" by The New Yorker) is moving from its long-time home in the Student Center at the University of Bridgeport to a new location at 277 Fairfield Avenue, above the celebrated Bijou Theatre. Some 27 properties in Bridgeport were considered before the search committee unanimously voted to approve the second-floor Fairfield Avenue site, which is leased from Bridgeport developer Phil Kuchma.
Moving day is November 16, and the station is making a gala out of it. At 10:30 a.m., a ribbon-cutting ceremony will be held on stage at the Bijou with local and state dignitaries. Invited guests include Mayor Joseph Ganim, U.S. Senators Chris Murphy and Richard Blumenthal, Congressman Jim Himes, and the entire state delegation and City Council.
The Go Live events will start on Monday, November 15 at noon, when Station Manager Steve di Costanzo hosts a noon report to the listeners about the move and the possibilities it presents—including synergies with the Bijou Square community, restaurants and the growing downtown arts district. Neighborhood Studios has taken a lease on the former YWCA property nearby. WPKN's studios are down the street from the Read's Building, with its artists' lofts. Richard Wenning, co-founder and treasurer of SpreadMusicNow and executive director of BeFoundation, will be a featured guest on the listeners' report, as will Rob Fried, the founder of Band Central Foundation.
The 16th will be a day full of WPKN "firsts" and "lasts." The "handoff" from the UB Student Center of 277 Fairfield Avenue will happen Tuesday, November 16 at 4 p.m. Just before that, former Station Manager Harry Minot will host the final show, a retrospective, from the UB studio, from 1 p.m. and 4 p.m. His guests will include talent from the past half-century, and he promises some yet-to-be-named surprise guests, some dating the station's earliest days.
Minot helmed WPKN from 1978 to 2008 and oversaw the transfer of the station's license from UB to WPKN Inc. He will share remembrances of his predecessor, Jeff Tellis, who ushered in the new 89.5 frequency and two power increases. Minot oversaw the transfer of the station's license from UB to WPKN.
Minot strongly believes in keeping the station independent, and it has remained so, with most of its support coming from the listeners. Fearless leader Steve di Costanzo will make a symbolic "last drive" over to the new studios (filmed by Cob Carlson, who is finishing a WPKN documentary) and host the first show from 277 at 4 p.m. "We'll be looking forward, and bringing in a lot of the players who played big roles in making the move happen," di Costanzo said.
The ribbon-cutting will be followed by public tours of the new state-of-the-art studios. Tours will be conducted in small groups to comply with city-issued COVID mandates. Masks will be required. The new facilities at 277 Fairfield Avenue feature a master studio and two production studios, a community room and live music enclaves.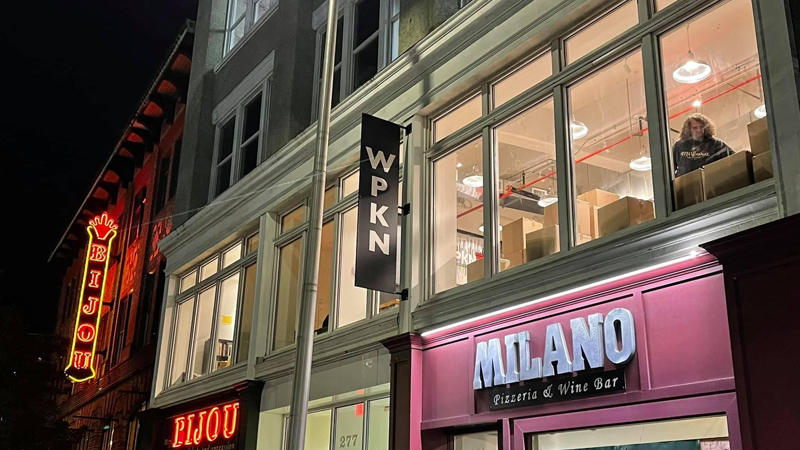 The Premiere and Gala
Following the move, WPKN will continue to celebrate with a gala day of events Friday, November 19. It's another chance to see the new studios, and experience Guggenheim Fellow Jin Hi Kim's multi-media premiere performance of "A Ritual for COVID 19" at the Bijou.
The "VIP Sneak Peek" tour of the new studios that day includes a celebratory prosecco tasting, served with a selection of locally sourced cheeses. The tour will be followed by a VIP reserved table next door to attend the premiere at the elegantly restored and historic Bijou.
"A Ritual for Covid-19" is a community purification performance in memory of 639,000 deaths in the U.S. and 4.5 million deaths worldwide during the pandemic. Following the premiere, VIP guests will also be able to attend an artist's reception featuring the artists and WPKN personalities at the Trattoria 'A Vucchella restaurant (voted one of the "Best Italian Restaurants 2021," in Connecticut Magazine) across the street from the station and the Bijou.
The next day, Saturday, Nov. 20 from 1 to 3 p.m., WPKN will present a related panel discussion at the Bijou Theatre. The event, "Therapeutic Performing Arts for the Community," will be live-streamed on the station and is supported by a Connecticut Humanities Quick Grant. WPKN "Soundprint: Asia" host Joseph Celli will interview Professor Matthew Isaac Cohen, a puppet master who teaches at the University of Connecticut; ethnomusicologist Saida Daukeyeva of Wesleyan University; B. Balasubrahmanyan, an adjunct professor of music at Wesleyan; and Jin Hi Kim.
Limited VIP tickets for the gala are $150, and general admission (to "A Ritual for Covid-19" only) $50. Purchase tickets here.
---
About WPKN
Founded in 1963 as a 100-watt campus outlet, WPKN is today a 10,000-watt listener-supported community radio station broadcasting at 89.5 FM and streaming online at WPKN.org. WPKN's terrestrial signal now reaches to a listenership of 1.5 million people in Connecticut, Long Island, parts of New York and Massachusetts. Operating 24/7 and largely run by volunteers, WPKN offers a unique and eclectic mix of live and recorded music, news, public affairs, spoken word, arts and culture and other free-form programming which defy genre. WPKN is proud to be listener-supported, commercial-free, community-driven radio available to the public at no cost, any time, day or night.
Serving Fairfield, New Haven, Litchfield and New London Counties in Connecticut and Suffolk County in New York and around the world via streaming.