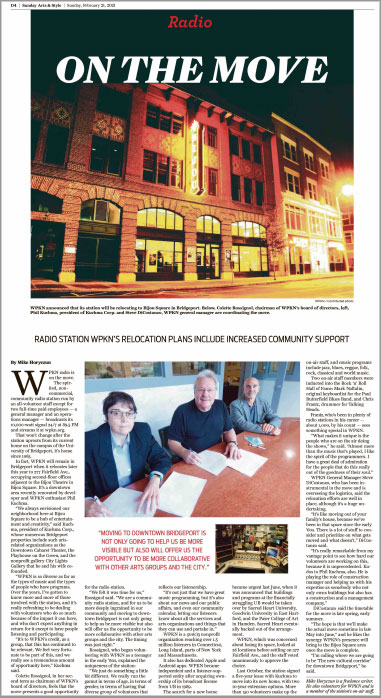 FOR IMMEDIATE RELEASE
The upcoming WPKN move to Bijou Square in downtown Bridgeport is a big deal for the station and a big deal for the downtown, too. We think the energy of the city and the energy of the station will be perfect together!
Check out our featured article by Mike Horyczun in CTPost. If you don't have a subscription, check out the attached PDF file of the article.
About WPKN 89.5 Community Radio
Founded in 1963, WPKN is a 10,000-watt listener-supported community radio station broadcasting at 89.5 FM and streaming online at WPKN.org. WPKN's terrestrial signal serves a potential listenership of 1.5 million people in Connecticut, Long Island, and parts of New York and Massachusetts. Programs on WPKN include live and recorded music, news, public affairs, and spoken word. The station is powered by the passion and commitment of almost 200 volunteers in our listening community and is supported by the generous donations of our listening audience. Learn more at https://wpkn.org.