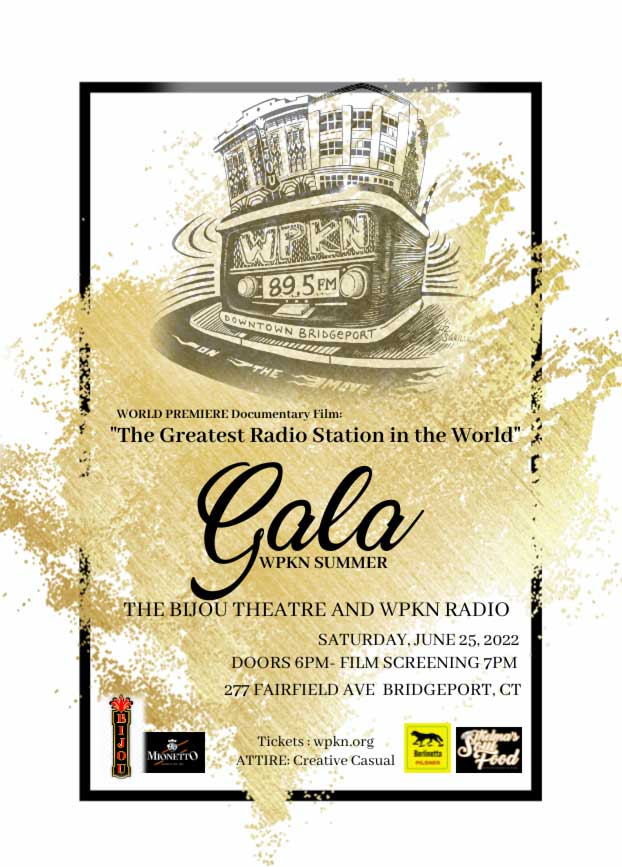 For Immediate Release
CONTACT: Jim Motavalli at 203-610-0549
WPKN Documentary "The Greatest Radio Station in the World" Gets World Premiere Benefit Screening at Bridgeport's Bijou Theatre
Cob Carlson's new documentary about WPKN, The Greatest Radio Station in the World, will get a premiere summer gala benefit screening at Bridgeport's downtown Bijou Theatre (located directly below the station itself) on Saturday, June 25 at 275 Fairfield Avenue in Bridgeport. Parking is available on the street or in the 24-hour parking garage across from the Bijou.
Doors open at 6 p.m., and the film starts at 7 p.m. Seating for the gala is limited to 190 tickets. The $150 per ticket price includes tours of the WPKN studios with food from Miss Thelma's Soul Food Restaurant and Bar, and sparkling prosecco from Mionetto—other wine and soft drinks will be available as well.
According to director Carlson, "The great writer Joan Didion once said, 'We tell ourselves stories in order to live.' Working on this documentary story injected a bolt of life force into me—so thank you, WPKN! The station gives its programmers a tremendous amount of creative freedom to produce great radio in whatever way they choose. That was one of the things that enticed me to do the film." Carlson will host a Q&A session with the audience after the screening.
The Greatest Radio Station in the World tells the 60-year history of WPKN (launched in 1962) with a great deal of color, in-depth interviews with station volunteers and listeners going back to the founding, and unique "found" footage.
A trailer for the film can be found at https://vimeo.com/714993269.
About Cob Carlson
Cob Carlson was born in Bridgeport and grew up in Fairfield. Cob has been a film editor/producer for 33 years, the past 30 spent in Boston. Cob has worked on documentaries, feature films, major network television programs, music videos, trailers, commercials and web videos of all kinds. He is currently an adjunct professor at Eastern Connecticut State University. His 16-millimeter documentary film, An Irish American Story, about his grandmother who lived in the South End of Bridgeport, received critical acclaim and was broadcast on PBS in 1998. He recently produced the feature-length documentary Donald Ross: Discovering the Legend.
About WPKN
WPKN, rated "the greatest radio station in the world" by The New Yorker, recently completed its long-awaited move to 277 Fairfield Avenue in Bridgeport—walking distance to Read's Artspace and other arts venues. Founded in 1963 as a 100-watt campus outlet, WPKN is today a 10,000-watt listener-supported community radio station broadcasting at 89.5 FM and streaming online at WPKN.org. WPKN's terrestrial signal now reaches to a listenership of 1.5 million people in Connecticut, Long Island, parts of New York and Massachusetts. Operating 24/7 and largely run by volunteers, WPKN offers a unique and eclectic mix of live and recorded music, news, public affairs, spoken word, arts and culture and other free-form programming which defy genre. WPKN is proud to be listener-supported, commercial-free, community-driven radio available to the public at no cost, any time, day or night.