FOR IMMEDIATE RELEASE
WPKN Celebrates Women's History Month in March
BRIDGEPORT, CT, February 27, 2023—Join WPKN's programmers as they celebrate Women's History Month throughout March 2023. While we celebrate the culture, wisdom, and legacy of women throughout history, we also note the unprecedented challenges we face with many of our basic rights under attack. On the air, hear music, conversation, and special programming.
Please join us to celebrate Women's History Month throughout the month of March!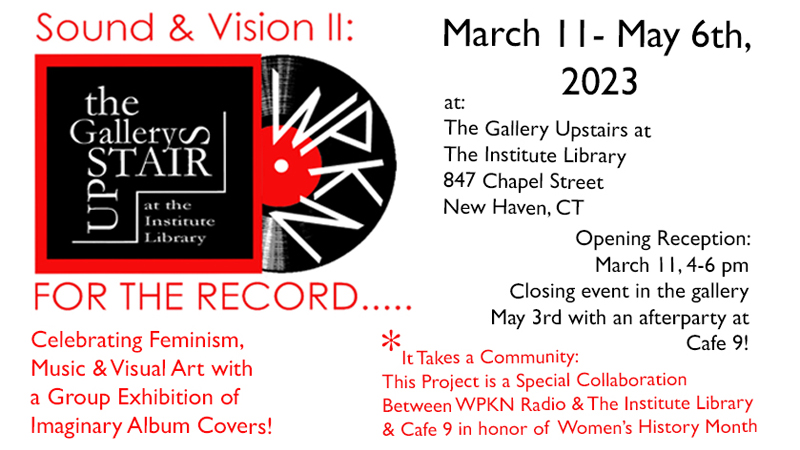 Our special community events include an art exhibition For the Record, a feminist celebration of music and visual art that will take place at the historic Institute Library in New Haven. The show, which will run from March 11 through May 6th, is the result of an open call for the public to make imaginary record album covers on the topic of women in music. This diverse and inclusive exploration will also feature memorabilia from notable musicians, real album covers designed by local artists, and some treasures unearthed from WPKN's expansive vinyl archive. The Gallery Upstairs at The Institute Library is located on the third floor of 847 Chapel Street in downtown New Haven. A fabulous closing party will be taking place on May 3 at Café 9 in New Haven from 7 to 11 pm.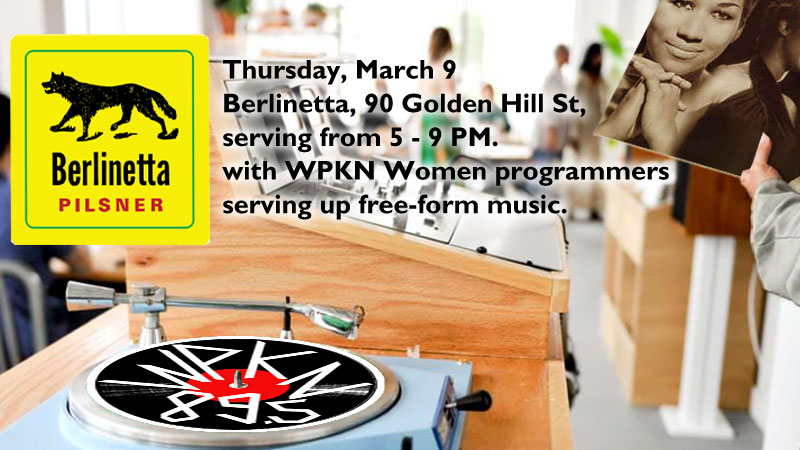 Another special and very fun event will take place on Thursday, March 9, at Berlinetta Brewing, 90 Golden Hill Street in Bridgeport. WPKN's monthly Thursday evening DJ party will feature WPKN programmers spinning music by women of all eras.
Finally, join WPKN on the air on March 18 for a special day of programming and fundraising that will feature the women of WPKN's on-air staff. We will be raising spirits and funds for WPKN from 7 a.m. until midnight on March 18.
About WPKN 89.5 Community Radio
Founded in 1963, WPKN is a 10,000-watt listener-supported community radio station broadcasting at 89.5 FM and streaming online at WPKN.org. WPKN's terrestrial signal serves a potential listenership of 1.5 million people in Connecticut, Long Island, and parts of New York and Massachusetts. Programs on WPKN include live and recorded music, news, public affairs, and spoken word. The station is powered by the passion and commitment of almost 200 volunteers in our listening community and is supported by the generous donations of our listening audience. Learn more at https://wpkn.org.