Writer's Voice with Francesca Rheannon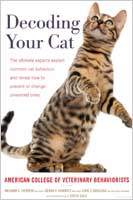 We talk with veterinary behaviorist Meghan Herron, editor of "Decoding Your Cat: The Ultimate Experts Explain Common Cat Behaviors And Reveal How To Prevent Or Change Unwanted Ones." It's out from the American College of Veterinary Behaviorists.
Then, let's not forget the puppies! We re-air our 2017 interview with dog rescuer and rehabilitator Amy Sutherland about dogs in shelters, getting them adopted and keeping them out of shelters to begin with. Her book is "Rescuing Penny Jane: One Shelter Volunteer, Countless Dogs, and the Quest to Find Them All Homes."
Monday, January 11 at 10:00 PM and archived.
First Voices Indigenous Radio by Tiokasin Ghosthorse
The theme for this week is "Collective Consciousness Perspectives."
Guests are Adele Vrana, who has led business development and partnership initiatives to help build more plural and diverse communities in her native country of Brazil and globally. She is the former Director of Strategic Partnerships at the Wikimedia Foundation and a 2015 Erasmus Prize laureate on behalf of her work to expand access to Wikipedia in the Global South.
And Anasuya Sengupta, who has led initiatives in India and the USA, across the global South, and internationally for more than 20 years, to amplify marginalized voices in virtual and physical worlds. Anasuya is the former Chief Grant-making Officer at the Wikimedia Foundation, former Regional Program Director at the Global Fund for Women, and a 2017 Shuttleworth Foundation Fellow.
Tuesday, January 12 at 12:00 noon.
Jim Motavalli with Jim Motavalli
8:00 PM: Lonnie Liston Smith, jazz pianist (on tape)
8:30 PM: Nelda Swiggert, jazz/classical recording artist with new album, "Alaska"
9:00 PM: Taco Tapes, a pioneering duo with a new album of old-time country songs
9:30 PM: Talia Levin, author of a new book in which she writes of infiltrating white supremacist groups — we'll talk about the relevance to what happened in DC
10:00 PM: Kendra Shank, jazz singer
10:30 PM: the folks from Short Bus, a Milford-based bike repair business
Tuesday, January 12.
Tidings from Hazel Kahan
"'From each according to ability; To each according to need,' is a phrase derived from where?" asks Luc Bovens, Professor, University of North Carolina at Chapel Hill, my guest on this month's Tidings. I'd been puzzled by what seemed not only to escalate Cold War-era rejection of Marx's ideas but also to weaponize rather kind, humanitarian thinking into a surefire way to unseat a political opponent or at least cast serious doubts on another's civic worthiness. I had not expected the explanation to lie in the Bible.
Collaborating with scholar Adrien Lutz, Professor Bovens explains that the words did not in fact originate with Karl Marx, who popularized them in his 1875 Critique of the Gotha Program, but in France as early as 1829, and later in 1845 and 1848, with Christians who borrowed the phrases and their variants from the French Bible and, which as my guest illustrates, are scattered through the books of the New Testament. It turns out that Karl Marx not only came late to the Marxism slogan but did so on the shoulders of 19th century Christian philosophers and the Bible!
Wednesday, January 13 at 7:30 PM and archived.