Note from the WPKN General Manager
We are a community, non-profit radio station, dedicated to providing you with music and other entertainment, public affairs, news and some companionship during this time of disruption.
As always, all of our programming and content is produced by volunteers — people like you, who live in your community and may even be your neighbors.
I want to thank you for your continued financial support, your listenership and letting us be a part of your lives. We have not done any fundraising since February. With the end of our fiscal year approaching, we are taking small and careful steps in that direction.
Below is a 'special' appeal letter we are sharing in this eNewsletter. We have also pre-sent this letter to a limited group of donors.
It was written by our Director of Development, Richard Epstein with some input from the board. I think the letter is very thoughtful and reinforces our identity and some of our current challenges. We thank you for any additional help you can offer us at this time — if your circumstances allow it.
I also want to let you know that WPKN successfully worked through People's United Bank and the SBA and we were able to receive a PPP grant.
Steve di Costanzo, GM of Community Radio WPKN 89.5-FM (Bridgeport)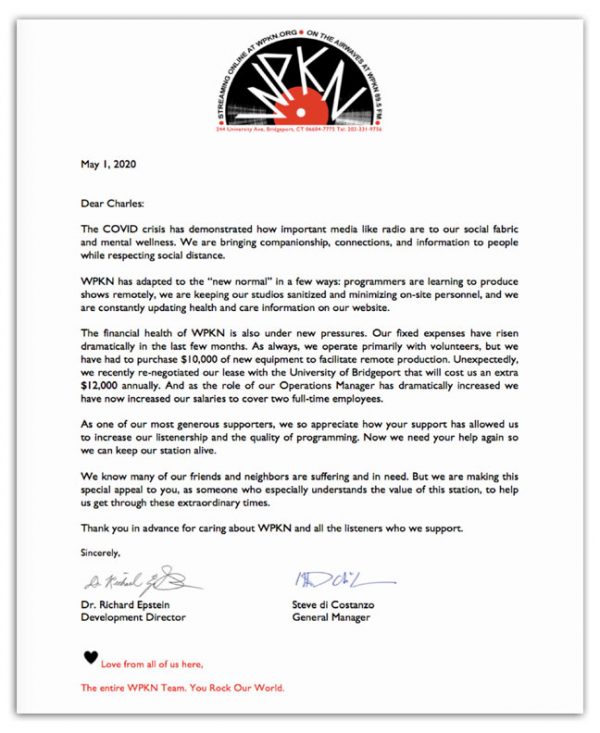 All/Together/Now: Global Dance Party #2 on WPKN
Friday, May 8 from 12noon to 12 midnight
It's a FREE event — Dance in Place — It's All Remote
Community radio WPKN 89.5-FM presents a 12-hour radio event — a multicultural music event we will do for 'fun' as a Global Dance Party.
'Hey Alexa — play WPKN on Tunein Radio!'
11WPKN DJ's are preparing sets of music (see below) Each will do a 60-min set of songs in the genres listed.
Each DJ will join WPKN on the phone at the start of their 60-min set.
See below for the complete list of DJ's .. we think/hope there will be a third event as well with a whole different slate of WPKN DJ's.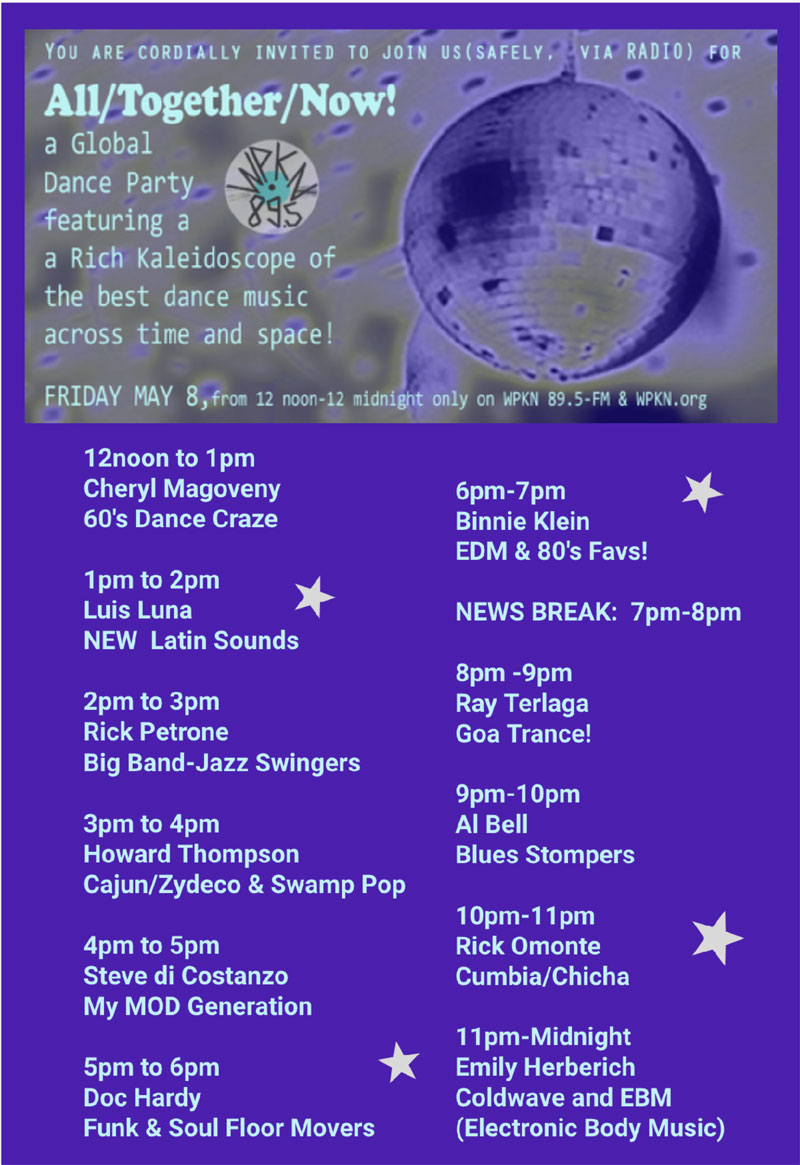 On-Air Fundraising Events!
We will be doing two days of on-air fundraising later this month. We thought we would choose the end of the week that leads into Memorial Day Weekend. Traditionally the Thursday and the Friday of that particular week is a marker that the Summer is right around the corner. Many people would be packing up and getting ready for a long weekend of travel plans. This year we know it will be different. Our hope is to bring something compelling to the airwaves — to entertain and challenge the listeners.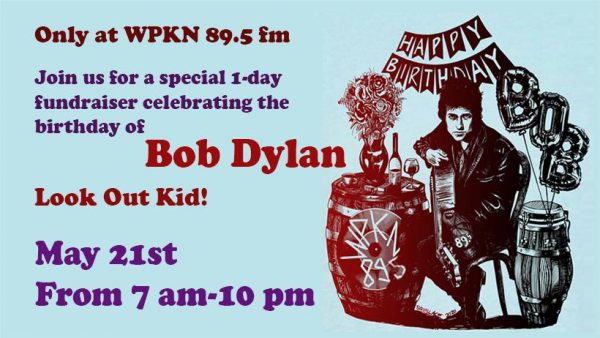 On Thursday May 21 we will be celebrating Bob Dylan's Birthday… a tradition here at WPKN. Although his birthday is officially on Sunday, May 24th we thought we'd get a 'head start.'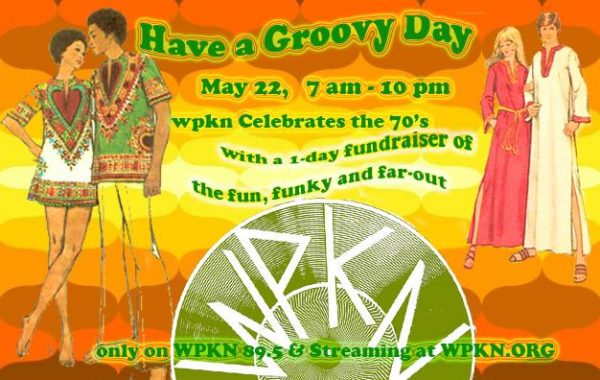 The very next day, Friday May 22, we will have fun with a celebration of 70's music — we're calling it 'Have a Groovy Day the fun, funky and far out'
Please Become a Sustaining Supporter of WPKN
You'll Receive the New WPKN Membercard With Discounts to Restaurants and Cultural Centers!
*New Cards to all sustainers will be sent out with April 1, 2020 start dates.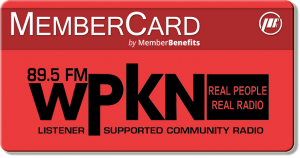 2020 — Our Year To Hit 500 Sustaining Supporters!
Some of you will remember WPKNs brief involvement with MemberCard roughly 10 years ago. The company is back — better than ever — with a newly added app-based option like the company Groupon. This is a major improvement and WPKN is happy to work with them again in 2020
WPKN wants to offer the new MemberCard as our gift to all current monthly sustaining donors who are contributing at least $10 a month ($120 a year). We will be sending you cards in the mail as well as a cover note.
MemberCard qualifies you for deals and discounts at area restaurants, museums, etc. You can find the relevant deals in the brochure as well as online at
membercard.com or on the phone app called "MemberCard." Deals are specific to WPKN and extend throughout the CT/NY area. The choices are much broader than they were last time and include some wonderful restaurants, museums and other cultural organizations.
To use the card, one presents it at the restaurant or establishment when paying as you would with a coupon. If you have the app, you don't need to carry the card or booklet.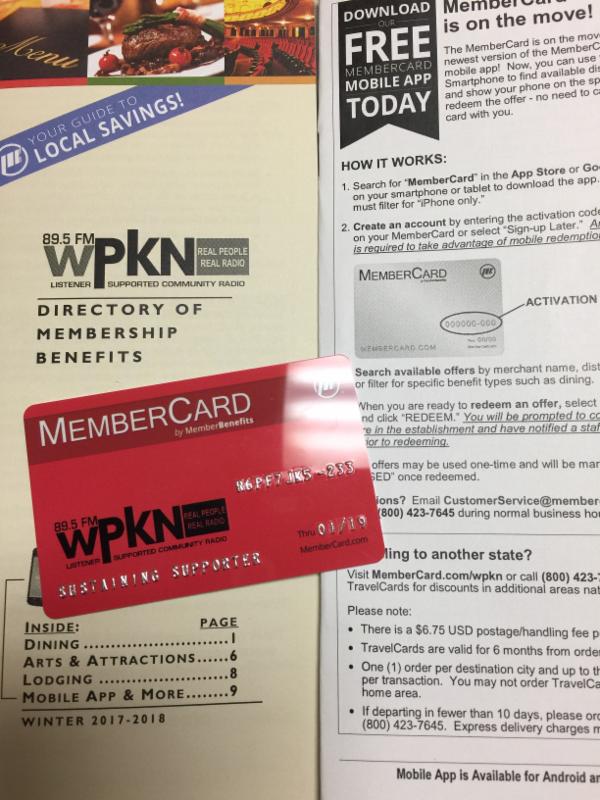 This is what the donation page at wpkn.org now looks like.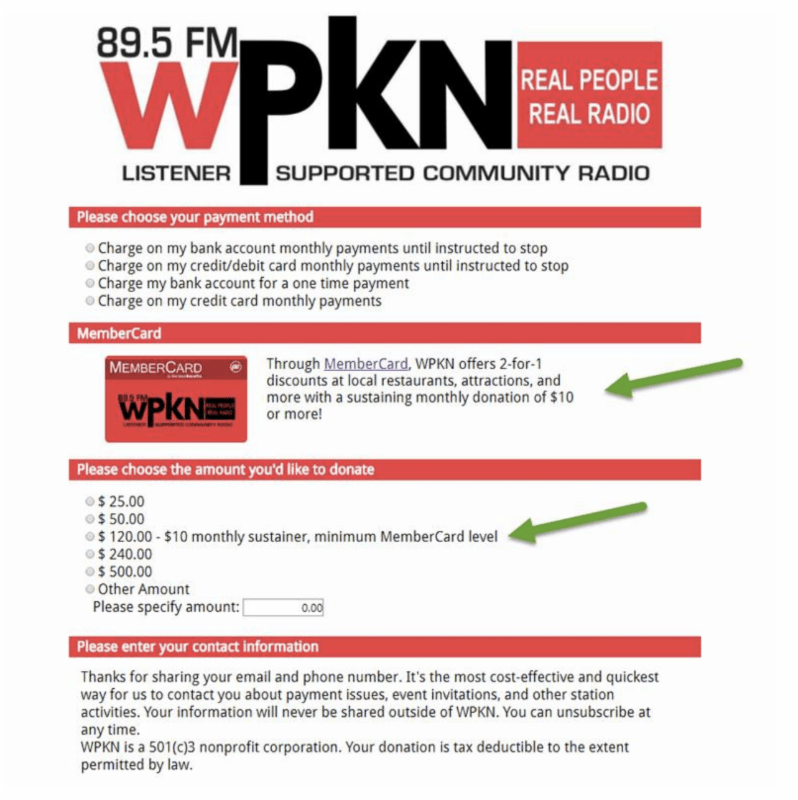 It makes it even easier to become a sustaining supporter than ever before. If you are NOT a sustaining supporter please consider this option and you can receive a new MemberCard from WPKN as our thanks.
Click below to become a Monthly Sustaining Supporter
+1000 WPKN podcasts – more than 60,000 Listens!
Visit individual
host
pages to link directly to their individual
Soundcloud
podcasts.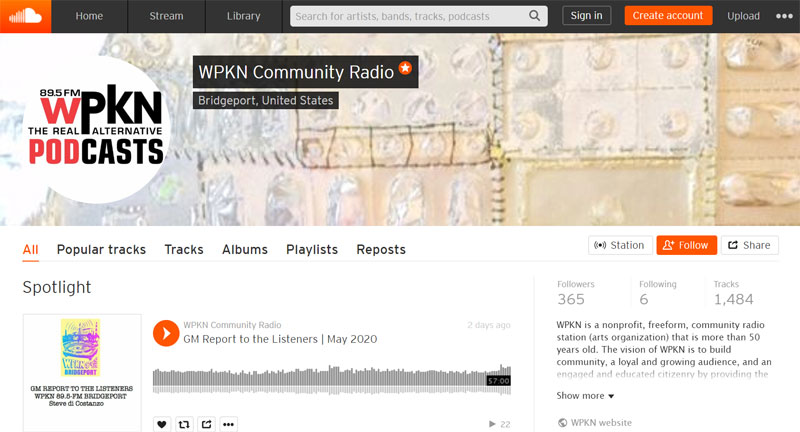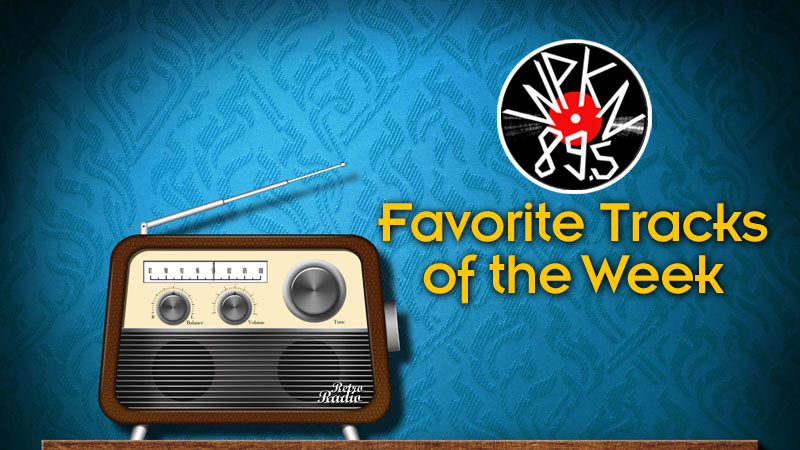 TOP TRACKS OF THE WEEK
Published Mondays on WPKN Radio and on Facebook
Every Monday WPKN releases our "FAVORITE TRACKS OF THE WEEK" on wpkn.org and on Facebook. Collated by our music director, Howard Thompson, each week many WPKN programmers submit some of their favorite tracks they've played. You can see the entire weekly posts by clicking here.
Are You Interested in On-air Underwriting / Event Sponsorship?
WPKN is looking for small business owners who are interested in leveraging WPKNs listenership for brand and/or sales growth. Opportunities exist for both cost-effective 'on-air' underwriting messages as well as event sponsorship for as little as $200.
If you are interested, please email our underwriting manager, Doug MacLeod.