FOR IMMEDIATE RELEASE
For Further Information, Lisa Sahulka, 203-331-9756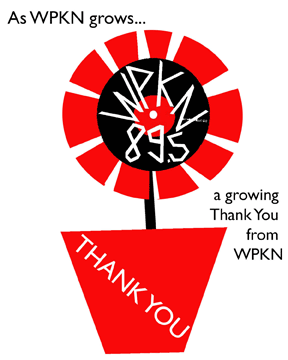 As a 501(c)3 listener-supported community radio station, WPKN routinely turns to our listener base for financial contributions to help keep the station operating, and 2020 was no different. However, added to that normal financial burden is a seemingly large lump-sum to help fund moving the station. After staying put for more than five decades in the Student Center at the University of Bridgeport (since 1965), listener-supported WPKN Radio (89.5 FM) is making a timely move to "Restaurant Row" in downtown Bridgeport to be closer to listeners, public transportation and the city's burgeoning arts scene. The station expects to be fully operational at the new location by June 30 of 2021.
The station has already set aside $100,000 for the move and has secured a $140,000 Small Business Administration loan, which will be used to support the regular station budget. The WPKN 2021 Capital Campaign aims to raise an additional $125,000 for new equipment and $275,000 to renovate and adapt the new Fairfield Avenue space to the station's needs.
Hitting the ground running, WPKN asked its wide listener community to help in raising the first $100,000 by March of 2021, $200,000 by June, and the full $300,000 by the end of 2021. While a big "ask," it wouldn't be possible—especially in the middle of a pandemic—without WPKN's dedicated community, which recognizes the rarity of the station's free-form music, news and public affairs programming.
WPKN would like to thank our generous donors of 2020:
The iconoclastic station has built support not by appealing to the lowest common denominator, but by creating fresh and original programming, unfettered by commercial considerations. WPKN's 10,000-watt terrestrial signal at 89.5 FM reaches a listenership of 1.5 million people in Connecticut, Long Island, parts of New York and Massachusetts. It also streams live on the Internet at www.wpkn.org and has dedicated Apple and Android apps. Operating 24/7 and largely run by volunteers, free-form WPKN today offers an eclectic mix of live and recorded music, news with viewpoints not heard elsewhere, public affairs and spoken word.
WPKN, a 501(c)3 non-profit, has as its mission "to strengthen and enrich our community through programming that is provocative, innovative, and free from commercial influence." The station promotes diversity, tolerance and freedom of expression.