Digging in the Dirt with Kevin Gallagher
Kevin Gallagher's guest is Jon Stokes of the web site Theprepared.com who will be talking about emergency preparedness and prepping checklists for everyone. The Prepared is a collection of free, obsessively-researched reviews of the best prepper gear and skills so you can protect your life, family, and home in an emergency. Their experts do the work so you don't have to. No BS. No propaganda. No Zombie apocalypse.
Monday September 21st at 5:00 PM.
Counterpoint with Scott Harris
This week's guests on Counterpoint, hosted by Scott Harris:
Trita Parsi is the co-founder and Executive Vice president of the Quincy Institute for Responsible Statecraft. He is also the founder and former president of the National Iranian American Council, author of Treacherous Alliance, A Single Roll of the Dice and "Losing an Enemy." He'll talk about his recent article, "Is Mike Pompeo Preparing an October Surprise?" amid concern the Trump regime may be planning to provoke a dangerous military conflict with Iran to gain partisan advantage in the November election.
---
Women's March executive director Rachel O'Leary Carmona discusses her group's mobilization campaign to stop the GOP controlled Senate from considering any nominee proposed by President Trump to replace the late Supreme Court Justice Ruth Bader Ginsburg, until after the election and a new president takes office in January.
---
Social Security Works Executive Director Alex Lawson examines President Trump's recent statements that he intends to suspend or terminate Social Security payroll contributions if he is reelected, and the short term and long term consequences for the financial health of the Social Security system.
---
Sasha Abramsky, journalist and author of "Little Wonder," "Jumping at Shadows," and "The American Way of Poverty." will discuss his recent article, "Is Trump Planning a Coup d'État?" and reports that Attorney General Bill Barr wants to charge racial justice protesters with sedition, a move linked with Trump's "law and order" rhetoric, that identifies Antifa and anarchists as public enemies threatening the overthrow of the government, while criminalizing lawful dissent.
---
Mitchell Zimmerman, a California attorney who got his client off San Quentin's death row after a 22-year legal struggle, a civil rights worker in Arkansas, Georgia and Mississippi in the 1960s, and author of the anti-racism novel "Mississii Reckoning." He talks about his recent article, "Trump Knew Covid-19 Could Kill. He Just Didn't Care," and the role the coronavirus pandemic will play in decisions voters will make in this November's presidential election.
Monday, September 21 at 8:00 PM and in the WPKN archive.
Writer's Voice: with Francesca Rheannon
Writer's Voice with Francesca Rheannon continues our Election 2020 series with two looks back—one way back and the other more recent—to derive important lessons for this election season.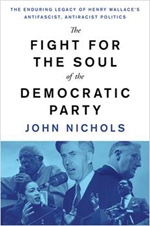 First, we talk with John Nichols about his new book, "The Fight For The Soul Of The Democratic Party: The Enduring Legacy of Henry Wallace's Anti-Fascist, Anti-Racist Politics."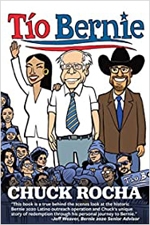 Then Bernie2020 campaign strategist Chuck Rocha talks about his new book "Tío Bernie: The Inside Story of How Bernie Sanders Brought Latinos Into the Political Revolution."
Wednesday, September 21 at 10:00 PM and archived.