First Voices Radio with Tiokasin Ghosthorse
Debra Utacia Krol, a citizen of the Xolon Salinan Tribe and an Indigenous affairs reporter at the Arizona Republic will discuss her article "Living with Fire."
Co-Host Anne Keala Kelly talks with Lori Jump, director of StrongHearts Native Helpline, a helpline for Native Americans impacted by domestic violence and dating violence.
And Tiokasin talks with award-winning hip-hop/electronic artist Cody Coyote.
Tuesday, October 13 at 12:00 noon.
Tidings from Hazel Kahan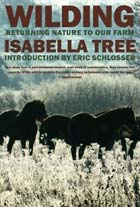 On this month's Tidings, Isabella Tree tells Hazel Kahan about her latest book Wilding, a new kind of creation story. From the Knepp estate in Britain's West Sussex, Ms. Tree describes how she and her husband Charlie Burrell, defeated in their attempts intensively farm the deep clay soil of their 3,500 acres of ancient, inherited land, literally turned it over with the help of large-hoofed animals, allowing the land to wild itself and to establish a functioning ecosystem where life in all its diversity has returned, and the sound of turtle doves, storms of butterflies and creatures great and small appear wherever on their land you go. This wilding project joins many others around the world, bringing with it a rare energy and hope that may not, as we feared, have disappeared after all. It's a glorious story!
Wednesday, October 14 at 7:30 PM and archived.