Digging in the Dirt with Kevin Gallagher
Kevin Gallagher's guest Ryland Engelhart Executive Director Kiss the Ground. Monday, October 5 at 5:00 PM.
Writer's Voice: with Francesca Rheannon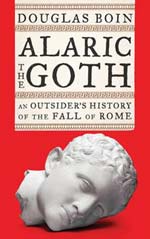 Writer's Voice with Francesca Rheannon will talk with historian Douglas Boin about his fascinating biography, "Alaric The Goth: An Outsider's History of the Fall of Rome." It's a cautionary tale about how xenophobia and anti-immigrant bigotry led to the Sack of Rome and the fall of the Roman Empire.
Then we hear from Jim Walsh of Food and Water Watch about legislation proposed by AOC to ban fracking.
Monday, October 5 at 10:00 PM and archived.
North Fork Works with Hazel Kahn
This month Hazel Kahan's guest is Dr. John Rasweiler a retired medical school professor who has spent much of his scientific career working with wildlife. A resident of the North Fork, Dr. Rasweiler has been active as both advisor and critic to all levels of government officials on the thorny problem of deer overpopulation in our region. In this North Fork Works program, he tells us how the long-awaited Southold Town Comprehensive Plan falls well short of solving the deer problem and protecting our ecosystem.
Wednesday, October 7th at 7:30 PM and archived.