Digging in the Dirt with Kevin Gallagher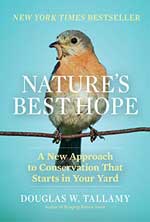 My guest this week on Digging in the Dirt is Doug Tallamy, a professor of entomology and wildlife ecology at the University of Delaware and a NY Times best-selling author. He has won the Garden Club of America Medal for conservation and has written three critically acclaimed books "Bringing Nature Home: How You Can Sustain Wildlife with Native Plants," "The Living Landscape: Designing for Beauty and Biodiversity in the Home Garden" and his latest "Nature's Best Hope: A New Approach to Conservation that Starts in Your Yard." I find this book to be a great optimistic look at the issues facing our environment and a positive way to get ourselves as a species back on track one yard, one community at a time.
Monday, January 25 at 5:00 PM and archived.
Writer's Voice with Francesca Rheannon
What's the prospect for a Green New Deal in the Biden administration? We talk with Guido Girgenti about the book he co-edited with the Sunrise Movement's Varshini Prakash, "Winning The Green New Deal."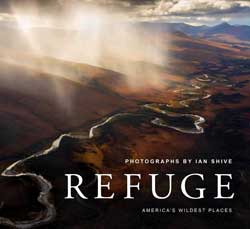 Then, we talk with wildlife photographer Ian Shive about his stunning book of photos and essays about America's wildlife refuges. It's called "Refuge: America's Wildest Places."
Monday, January 25 at 10:00 PM and archived.
First Voices Indigenous Radio by Tiokasin Ghosthorse
Darryl Leroux is an associate professor in the Department of Social Justice and Community Studies at Saint Mary's University in Kjipuktuk (Halifax, Nova Scotia). His book, "Distorted Descent: White Claims to Indigenous Identity," explores the many efforts made by white Americans and Canadians to claim an "Indigenous" identity.
In the second half-hour, Tiokasin welcomes back Max Wilbert, a writer, organizer and wilderness guide. A third-generation dissident, Max grew up on Duwamish land in post–WTO Seattle. He is the author of two books, including the forthcoming "Bright Green Lies: How the Environmental Movement Lost Its Way and What We Can Do About It," to be published by Monkfish this year. Max has been involved in fighting both Canadian and Utah tar sands, in resisting industrial-scale water extraction and deforestation in Nevada, in advocating for the last remaining wild buffalo in Yellowstone, in solidarity work with Indigenous communities in British Columbia, and in campaigns against sexual violence. Last Friday, a group of activists, including Max, launched an occupation of a proposed mine in northern Nevada. Lithium Americas corporation plans to rip open 5,000 acres of this land to extract lithium for consumer products.
Tuesday, January 26 at 12:00 noon.
Jim Motavalli with Jim Motavalli
Jim Motavalli's guests this week:
8:00 PM Jazz saxophonist Jane Ira Bloom
8:30 PM Ann Shikany of the Natural Resources Defense Council on transport policy
9:15 PM The duo of Allan Harris and Dom Flemons on black cowboys.
Tuesday, January 26 from 8:00 PM.
East End Ink
Poet, speaker, and creative consultant, Pauline Yeats reads "Burnt Norton," the first of the Four Quartets by T S Eliot, with commentary. The Quartets were written from 1935 to 1942, during Hitler's rise and World Wide II. The reading is the first of four programs presented by the East Hampton Library via Zoom.
East End Ink is heard on the 4th and occasional 5th Wednesday each month.
Wednesday, January 27 at 7:30 PM and archived.
Live Culture with Martha Willette Lewis
This Saturday on Live Culture will be a conversation with Andres Verzosa, Executive Director of The Stanley-Whitman House in Farmington, CT. The Stanley-Whitman House is a historic house museum built ca 1720, and is one of the oldest houses in Farmington. In December 2020 the structure celebrated its 300th anniversary. A well-preserved saltbox with post-medieval construction features, it was designated a National Historic Landmark in 1960. The house is now a living history center and museum. Events, classes, and exhibits encourage visitors of all ages to immerse themselves in history by engaging in Colonial life and the ideas that formed the foundation of that culture.
The House offers docent-led and self-guided tours, visitors to The Stanley-Whitman House can participate in adult and children's programs, cooking demonstrations, walking tours, and other special events. Visitors may also view modern art installations, conduct genealogical or local history research in the Library, walk around the grounds, and enjoy the seventeenth- and eighteenth-century reproduction gardens.
The need for social-distancing has made planning events and other programming very difficult for small arts organizations. We discuss the novel and innovative ways the members of this museum have found to keep the public engaged and the house vibrant.
Saturday, January 30 at 11 AM and archived.