Writer's Voice with Francesca Rheannon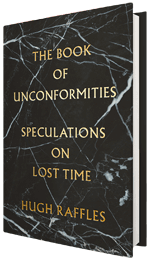 We spend the hour talking with Hugh Raffles about his new book, "The Book Of Unconformities: Speculations On Lost Time." It's part natural history, part memoir, part meditation on the relationships between people and rocks throughout time.
Monday, January 18 at 10:00 PM and archived.
First Voices Indigenous Radio by Tiokasin Ghosthorse
Guests this week on First Voices Indigenous Radio:
Janene Yazzie talks about LANDBACK, a movement that has existed for generations with a long legacy of organizing and sacrifice to get Indigenous lands back into Indigenous hands. Janene is a Diné woman from the Navajo Nation who has worked on human rights and Indigenous Rights issues for the past 15 years at the national and international levels. Janene also works part-time as the International Indian Treaty Council's Sustainable Development Program Coordinator.
In the second half-hour, Tiokasin welcomes Elizabeth Woody, Executive Director of The Museum At Warm Springs in Warm Springs, Oregon. They will talk about the news that tribal elders are dying from the pandemic causing a cultural crisis for American Indians. Woody is a renowned poet, author, essayist and visual artist, and in 2016 she became the first Native American to be named Oregon's Poet Laureate.
Tuesday, January 19 at 12:00 noon.